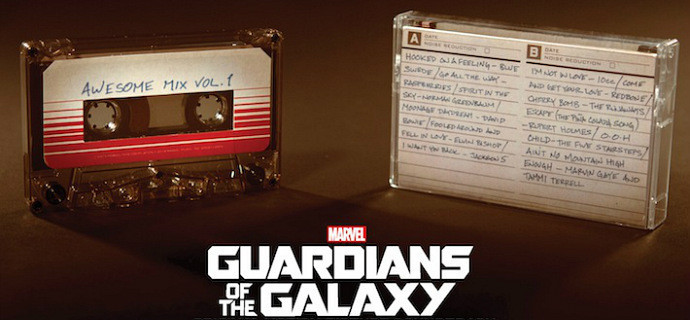 A banda sonora do primeiro filme de 'Guardians of the Galaxy' tem um papel bastante importante, considerando que as músicas que ouvimos durante o filme, foram gravadas pela mãe de Peter Quill numa compact cassette. No final do filme, Quill abre um presente com uma nova cassette, que contêm o segundo volume de músicas, que são agora reveladas pelo argumentista/realizador James Gunn.
A escolha foi feita pessoalmente por Gunn, enquanto desenvolvia o argumento desta sequela, num processo criativo idêntico ao do primeiro filme. A última faixa é uma música original escrita por Gunn e pelo compositor Tyler Bates, tendo recrutado David Hasselhoff para dar voz.
A lista completa, revelada pela Rolling Stone, é a seguinte:
1. "Mr. Blue Sky" – Electric Light Orchestra
2. "Fox on the Run" – Sweet
3. "Lake Shore Drive" – Aliotta Haynes Jeremiah
4. "The Chain" – Fleetwood Mac
5. "Bring It on Home to Me" – Sam Cooke
6. "Southern Nights" – Glen Campbell
7. "My Sweet Lord" – George Harrison
8. "Brandy (You're a Fine Girl)" – Looking Glass
9. "Come a Little Bit Closer" – Jay and the Americans
10. "Wham Bam Shang-A-Lang" – Silver
11. "Surrender" – Cheap Trick
12. "Father and Son" – Cat Stevens
13. "Flash Light" – Parliament
14. "Guardians Inferno" – The Sneepers featuring David Hasselhoff
Em conversa com a Rolling Stone sobre a banda sonora, Gunn revelou que as duas músicas mais importantes são "The Chain" e "Brandy". Estas estão bastante enraizadas no filme e, coincidentemente, são duas das suas músicas preferidas dos anos 70.
'Guardians of the Galaxy Vol. 2' estreia em Portugal a 27 de Abril.